Laughter Yoga Northridge meets at my home twice a month — generally the first Monday night and third Thursday night.  If you are local, go to http://www.meetup.com/Laughter-Yoga-Northridge/ and join or call me at 818-368-3375 for more information.  We would love to laugh with you!
COLOR, CREATE & COLLABORATE WITH ART & LAUGHTER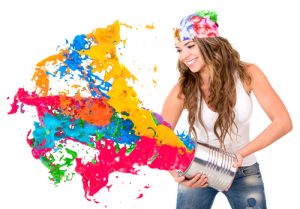 Both laughter and art create the space for genuine experiences that help release stress and leave room for more creativity, imagination and excitement.
We will experiment with laughter exercises to release the critical mind that can hold us back from expressing our creative selves. Combining these two processes will give us the freedom to think and create outside the box.
LAUGHTER AND CREATIVITY PLAYSHOP
If you would like to attend a Laughter and Creativity Workshop, let me know and I can schedule a date convenient to you and your friends!
This is such a fun playshop and I am really excited and hope you can join us!
Laughter can help clear out the cobwebs and open up creativity.
You know how energized and joyful you feel after a Laughter Yoga session.
This playshop adds another dimension with exercises incorporating laughter, play, expression, spontaneity and movement that will bring the pure joy that comes from the creative process. You might be totally surprised at how creative you really are or how creative you can be in ways you hadn't yet imagined.
LAUGH AND DANCE  – COMING THIS SPRING!
This is a really fun combination of Laughter Yoga and Nia!
Nia is based on the intelligent design of the body. Each workout brings mindfulness to your dance movement experience leaving you energized, mentally clear, and emotionally balanced.  We dance to amazing music and the choreography is really fun!
Nia cardio-dance workouts combine 52 simple moves based on dance arts (modern, jazz & Isadora Duncan), martial arts (T'ai Chi, Tae Kwon Do & Akido, and healing arts (yoga, Alexander Technique, Feldenkrais) to get you fit in 60 minutes – body, mind, emotion, and spirit.
Nia is non-impact, practiced barefoot, and adaptable to individual needs and abilities and can easily be done in a chair! Nia classes are taught by licensed Nia teachers.
This will be scheduled on a different night than our regular Laughter Yoga sessions and will be announced on the Laughter Yoga meetup group.  https://www.meetup.com/Laughter-Yoga-Northridge/
CERTIFIED LAUGHTER YOGA LEADER TRAINING
Next scheduled training is March 10 and 11, 2018
Let me know when you are available and we will schedule a time that is convenient for both of us.   This is a two day training.  Both days are 9 am to 5 pm. Lunch is included.
Program Description:
Madan Kataria, MD, started the first laughter club in India in 1995. Through his research, Dr. Kataria discovered that the mind does not know how to differentiate between fake and genuine laughter—either way it produces happy chemistry. The Laughter Yoga technique blends yogic deep breathing, stretching, simulated laughter exercises and cultivated child-like playfulness.
The Laughter Yoga Leader Training teaches the physiology of laughter and its many health benefits, how to start and run laughter yoga groups, special techniques for diverse populations, how to use and teach laughter as a coping skill and life skill and the structure, norms, counter-indications, and logistics of a laughter yoga club.
After successful completion of this course, you will be qualified as a Certified Laughter Yoga Leader (CLYL) through Laughter Yoga International University, an internationally recognized certification. As a CLYL, you can lead Laughter Club sessions in social clubs and senior centers, offer Laughter Club classes at yoga & fitness centers, present Laughter Club workshops in schools or businesses and integrate Laughter Club into your own business practice, instruction or healing modality.
Who Should Attend:
This training enriches health and fitness teachers, management/human resource professionals, medical professionals, psychologists, social workers, eldercare workers, life coaches, entertainment professionals, alternative therapists and healers, complementary therapists and anyone wanting to add more laughter to their lives and the lives of others.
Objectives:
As a participant, you will be able to
●●understand the scientific research and physical, mental, and emotional benefits of happiness, laughter, and Laughter Yoga;
●●understand how to use and teach simple exercises and techniques (including deep breathing, meditation, visualization, relaxation, playful activities) to increase joy and health and decrease stress;
●●organize and lead laughter programs for individuals and diverse groups including healthcare staff and patients, seniors, children, and corporations.
Registration Fee: $300.00.   Lunch, a manual and other goodies provided on both days.
Refund Policy: Full refund if the event is cancelled or rescheduled by me. Full refund (minus PayPal and other incidental fees for materials already purchased) if you cancel on a date specified relative to the training you registered for.
Shelley Bell
818-368-3375
Certified Laughter Yoga Teacher & Joy Activation Coadh
Laughter Yoga International University
shelley@heartandsoulspace.com
SOUTHERN CALIFORNIA LAUGHTER YOGA CONFERENCE – MARCH 24, 2018
Jeffrey Briar and Shelley Bell are excited to be planning the third Southern California Laughter Yoga Conference!  
Save the Date:  Saturday March 24, 2018 at Unitarian Hall, 429 Cypress Drive, Laguna Beach 92651.
We will start on the sand with the Laguna Laughter Club (10-11 am).  This very special Laughter Club is the first in the world outside of India to be meeting seven days per week for the last 12 years!  Everyone is welcome for this experience.  No charge for laughing on the beach.  Then we will head over to the Unitarian Hall for learning and laughing until 6 pm.  
We have a great lineup of speakers,  eye-opening programs and heartwarming experiences!  We all have lots to share, so you can count on time for getting to know each other and networking.

Last year's event sold out! This year we're happy to report that the venue is bigger, but you'll still want to get your tickets well in advance. Only $50 for the entire day of hilarity and inspiration! 
 Registration is now open!  Here is the link:   https://thelaughteryogainstitute.ticketspice.com/southern-california-laughter-yoga-conference-2018
Looking forward to laughing and learning with you in March!